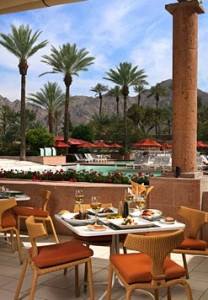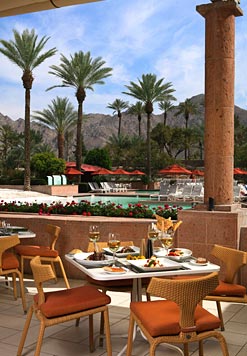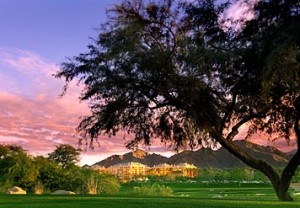 The Renaissance Esmeralda Resort & Spa is our first stop on the year long honeymoon.  It is located outside of Palm Springs.  It is a hotel Jenn and I have stayed at before for our 2nd anniversary.  We booked a jacuzzi suite and spa treatments.  This is also the hotel where Jenn gave me my titanium band which I currently wear.
At the hotel they have a golf course, 2 pools, multiple fire pits, 2-3 restaurants and bars as well as a top notch spa.  Jenn and I had our first couples massage at this spa and it was my first massage ever.  I was nervous and didn't know what to do.  I went into the massage room with my boardshorts still on.  Jenn laughed, I got even more nervous.  The massages were great and so was relaxing outside in the private hot springs and cabanas.
We are looking forward to going back and perhaps another massage.  We are also looking forward to going to Grill-a-burger (pronoucned Gorilla burger) in Downtown Palm Springs.  It is our favorite burger joint ever.  Also our first burger joint we went to on our 1st activity date.  If you are ever in Palm Springs I highly recommend looking them up.  Burgers bigger than you have seen this side of the Mississippi and with anything you want on them.