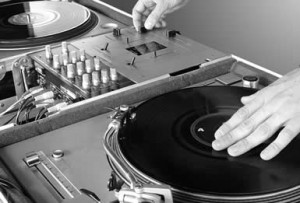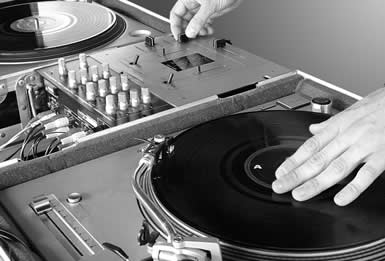 Saturday morning Jenn and I met with our DJ.  Graham Silver has been doing events for 15 years and is a professional DJ/MC.  He sat with us at a Starbucks for an hour to go over all of our hopes, dreams, aspirations, wishes and wants.  We told him the types of music we wanted, mostly 80's and 90's.  With some other special songs for the dance numbers.  There will be a honeymoon dance and an anniversary dance so bring your good dancing shoes.
One of the things we talked about was the fact that at every wedding you hear the same songs used for the bouquet like Beyonce's "Single Ladies."  That song will not be used, we will have a different song for most everything.  Even the last song will be a little different, it will not be "The Last Dance" but Semisonic's "Closing Time"
We  joked that morning about a DJ we thought was terrible, DJ Self-promotion (his identity hidden to protect him).  At a wedding that Jenn and I shot photos for, we saw him ask a bride if he could take down their photo slide show and put up his own self-promotional graphics.  How unprofessional.  Guess what, last Saturday night while at Salt Creek Grille for a meeting with our officiant, DJ Self-promotion was there working the dance floor.  The music was too loud and cheesy jokes were flowing quite freely. I know our wedding will be better.