Sylvia Fellows, Disneyland silhouette artist, was a major attraction at our wedding.  She did 85 silhouettes of more than 160 people, some with multiple sittings.  Her skill with scissors and eye for facial characteristics is beyond compare.  I am delighted she could be a part of our fun wedding reception at Salt Creek Grille.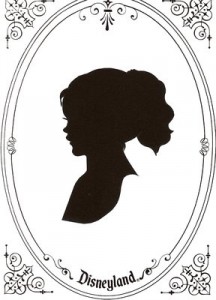 Jenn and I have been getting silhouettes done of us for Jenn's mother for some time now.  It is an annual tradition to have one done around Christmas for her present.  I was a little worried when Jenn said she wanted a silhouette artist at the wedding, I asked "How does that fit with our travel theme?"  But she assured me it would be a big hit with everyone.  Being that it was our wedding I agreed to hire Sylvia to cut silhouettes at the wedding.
I know Sylvia a little more than the average Disneyland guest.  I always strike up a conversation with her when we go in.  It takes Sylvia only seconds to cut out your facial features from paper.  One time we stayed there for more than 20 minutes talking to her.  She has been doing the Main Street USA silhouettes for too many years to count.  I knew that when Jenn hired her, the guests would be excited to sit and have a cutting done.
I am so pleased with the everything that Sylvia brought to the reception.  I do not think it would have been as fun a time without her.  There were old co-workers getting silhouettes done, couples and friends even the groomsmen and bridesmaids got one done.  Thank you so much Sylvia for making our wedding one of the most memorable for us and our guests.
If you want to get in touch with Sylvia for an upcoming event you are hosting, please let me know.  I would be happy to pass on the information.