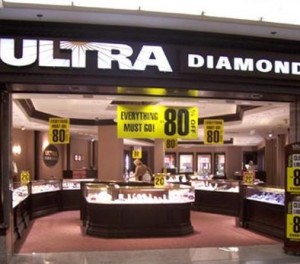 This weekend in Las Vegas was a more or less relaxing one.  There was not a ton of alcohol, nor was there a massive amount of partying.  It was mostly shopping for Jenn and her new teaching position.  White House | Black Market, Express and Victoria's Secret (not for school) mostly.  We also looked for a wedding band for me.  I want something with a blue inlay of some sort or anodized with some blue.  However they have little to no tungsten carbide rings in stores and even fewer with blue inlays.  I find them all over the place online but not in stores.  WTF!
There was one ring at this Ultra Diamonds that I think would have been satisfactory, it was a bit heavy white gold and had sapphires and diamonds in it for… $7,999 marked down to $2,399.  "Woah! What a deal!" I exclaimed as I cut the sold brick of sarcasm I was carrying that day.  I am sure it was overpriced even at $2,399.  Every piece the salesman pulled out was WAY overpriced at MSRP and then their 80% discount brings it down to a slightly overpriced piece.  I could find a similar ring for around $1,200.
The point I eventually got to was, that I am not going to spend more than $400 on a ring for me.  I refuse to have a ring that expensive.  I don't need diamonds, I don't need gold, I don't need sapphires. I just want some tough metal with a blue inlay.  I think Jenn and I are going to go online tonight to find what might work.