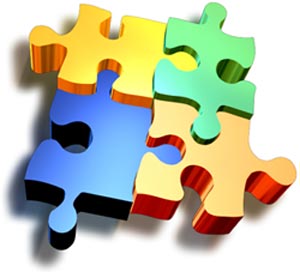 So we have talked about everything from date to venue to colors to attendants to photographer, videographer, violinist, and cake tonight.  Oh, and BUDGET!  I have emailed a few people, he has made calls, and the (*cough* poor *cough*) idea of his to not plan anything for a while is failing miserably.  But we are not stressed out, more so excited.  It is like laying out all the pieces of the puzzle on the table, figuring out which pieces are edges, and then making everything else fit inside.  And I LOVE puzzles! =)
*
Things we think we know:
Theme: Travel.  What else would it be with all we do?  This was decided before the proposal actually, and the first item we bought after the proposal relates.
Location Area: No further north than LAX, no further south than Dana Point.  Sent emails to locations in the outer extremes of that equation.
Colors: Not yet to be revealed but are almost sure after several odd combinations.
Date: This is a big one and need to figure out logistics, but we are thinking October.