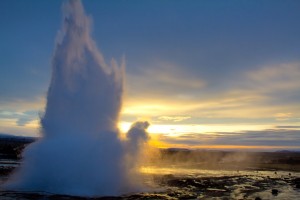 Wow we did a LOT today.  Woke up before the sun (easy to do!), ate breakfast and made the 2.5 hour, icy, snowy drive to Gullfoss (The Golden Waterfall).  It was freezing cold out there and of course I slipped and fell on some hard ice, but it was worth it (minus the slip) to see the amazing fall (the waterfall, not my fall).  The waterfall is huge and drops twice within a few hundred meters.  Thank goodness they were not allowed to damn it up and harness the power, it is too special for that.
We traveled back down our same path of the Golden Circle to Geysir – the Old Faithful of Iceland.  Getting to see the sun rise behind it was neat as well.
Our last stop of the morning trip was Thingvellir which was actually just before the 3:30pm sunset.  Jeff and I made a very long journey on more ice, but managed to stay upright this time. The tectonic plates were an interesting sight to see – I found it sad that the 3 tour groups that came while we were there simply stopped, used the restroom, and got on their way without ever trying to see the land shift.
Back in Reykjavik we had to return our rental car due to what sounded like faulty breaks – scary, I know, after 5 hours of driving on ice.  But it wasn't a problem at all and then we got our evening nap before heading to Laugardalur, a Hot Pot (Geo-thermal public pools).  It was so relaxing and really helped with my sore muscles from the stressful drive and hard fall.  We got yummy hotdogs right outside on our way out.
After a quick stop for warmer clothes we went back downtown to ride around the city and make quick stops for some night-time photos.  The lights around the city are beautiful this time of year.  Tomorrow is supposed to be the official kick off of Christmas celebrations (I think it has something to do with the 12 days of Christmas), so that should be fun.
Here are some of the many many photos from today!