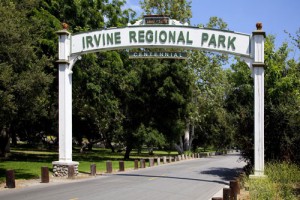 Jennifer took a pregnancy test and didn't tell me about her pregnancy results for a few days.  She wanted to surprise me and have a special photo session at Irvine Regional Park.  She asked me to be part of a photographer training session with a friend of her's.  Here is my take on that afternoon.
So there I was, back turned, waiting for the go-ahead to turn around for a model session bride reveal… but wait I totally forgot about the pretext.  Let me back you up here a bit.
It was a Monday, my wonderful wife Jenn had asked if we could do a photographer friend of ours a favor.  She had a new photographer she wanted to teach how to do first looks and engagement shooting.  After considering the positives of getting free photos, helping out a fellow photographer, nothing better to do that day (since I was unemployed at the time) and passing on some key knowledge to someone in the biz, I agreed to go and help out.  I was excited for photos.  I am so supporting of Jenn and her efforts because I value photography that I would love to do more photos anytime we can.  I got out a collared shirt I wore in Africa, some nice jeans, showered, shaved and made my hair look all nice.  Jenn was excited about it too and wanted to do something different for it so I had suggested a few days ago she get her makeup done.
Jenn got off work a little early on that day down in Mission Viejo and went to the mall to have her makeup done.  When she got home it looked like stage makeup and as a good husband I was strong and positive about it.  I told her she looked good and would praise her for being brave about doing the makeup. She looked beautiful to me, even it was a bit more than she ever wears, or most women ever wear for that matter.  After rubbing a bit of it off, she looked more like herself.  She also seemed happier with her makeup.  I liked the smoky eye look and her lipstick, it made me just want to kiss it all off before we got to the photo shoot.
The photo shoot wasn't far from our place here in Tustin, just up the road at the Irvine Regional Park.  We met Jenn's photographer friend Briana Caster and her assistant she was going to "break in" Alex.  I put my keys in the glovebox, it was not going to be good to have a rough pocket to sit on or a bulge in my pocket in photos.  Then we were off.  There was some brush area that Briana wanted to shoot photos under.  Showing Alex the framing technique she uses at weddings.  When Briana was talking with Jenn I was talking with Alex telling her about pose books and things I use when I do wedding photo shoots.  I like to talk and was trying to impart my wisdom on a new shooter.
When we were done with the dried brush photos we all walked out to the green grassy areas of the park for some mock first look scenarios.  No problem I was ready to ham it up.  I knew all about it since I had shot photos like this before and had a first look reveal done at our wedding.  I got this.  Be all serious then turn on the amazement and charm.  Oh my gosh I had to over react to be sure the photos were going to give some emotion and fast paced action.  So they we reset for a second version where Briana and Alex switched focus.  "Now turn on 3…2…1…"
The next thing I saw as Jenn holding some paperwork.  What was this paperwork, I was confused.  This was a model shoot for Alex to learn more about photography so what is this paperwork!?  I couldn't read it to I had to get closer.  I looked puzzled.  Then Jenn removed the paperwork to show a sign saying "I'm Pregnant" I was shocked.  My brain hit the pause button.
My brain went to look at synopsis of this movie for a moment. I didn't see this in the plot line so early in the movie.  I had to think in the blink of an eye… pregnant, I know we had been trying for the last month.  But she had only been off birth control for just 45 days or so at this time.  She had only cycled once, so what is all this?  My mind kept thinking, when did this happen, how did this… well no, I know HOW this happened, but how long ago… and I thought this was a model photo shoot.  I am so confused.  Then it hit me, my beautiful amazing wife is pregnant with our child.  She is going to be a mother and I a father.  She is pregnant, oh my gosh this is so cool!  We HAD been trying and it was something we both wanted.  This is wonderful news to hear.  This is amazing new.  All I could say was "This is so awesome!" and of course throwing out "I love you" like twenty times.  I pulled her close to me as she walked towards me.  I was so excited that I cried a few tears of joy.
I held her tight, wrapping my arms around her and having her whisper in my ear she was so excited and nervous and worried and all those other early pregnancy emotions.  I told her everything was going to be okay and that we were going to be so happy with a baby boy or girl.  It took a few good minutes for me to be calm enough to then ask the major question, "Who's idea was it to lie to me this whole time?  Ehh?"  I wasn't mad but more felt foolish.  I was being a goober during the photoshoot that everyone else was in on the joke.  Oh my gosh was I easy to lie to and get to go on an impromptu photoshoot and dance monkey dance.  It was a fun afternoon.  I love every minute of it.
So now that the veil of secrets had been revealed, I asked all the questions, and got a few answers about when Briana knew, how long it took to get setup etc.  I apologized to Alex for all my musing, she worked with Briana for years and was an accomplished photographer.  Oy!
The remaining photos were fun and light hearted as before the reveal.  I had some ideas and so did Jenn.  We both had a good time and boy did she look radiant in those pictures afterward.  I love her so much and this just made me feel so special that she could fool me twice within one month.  She is a good secret keeper and surpriser.  I am proud of her for that.
Twice, yeah I mentioned it.  The other time was when she took me up to Hotel Angeleno on our 5th anniversary of my proposal.  I had no clue she was doing that.  Totally took me by surprise and I was so happy to be there.  She is a wonderful wife, and soon to be an amazing mother.