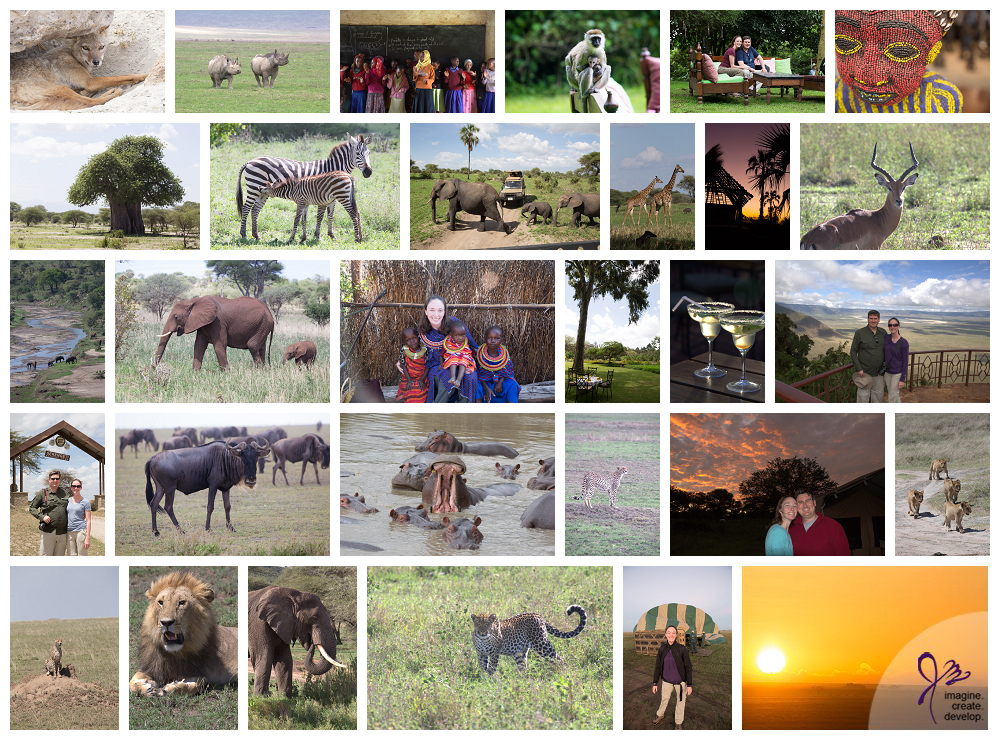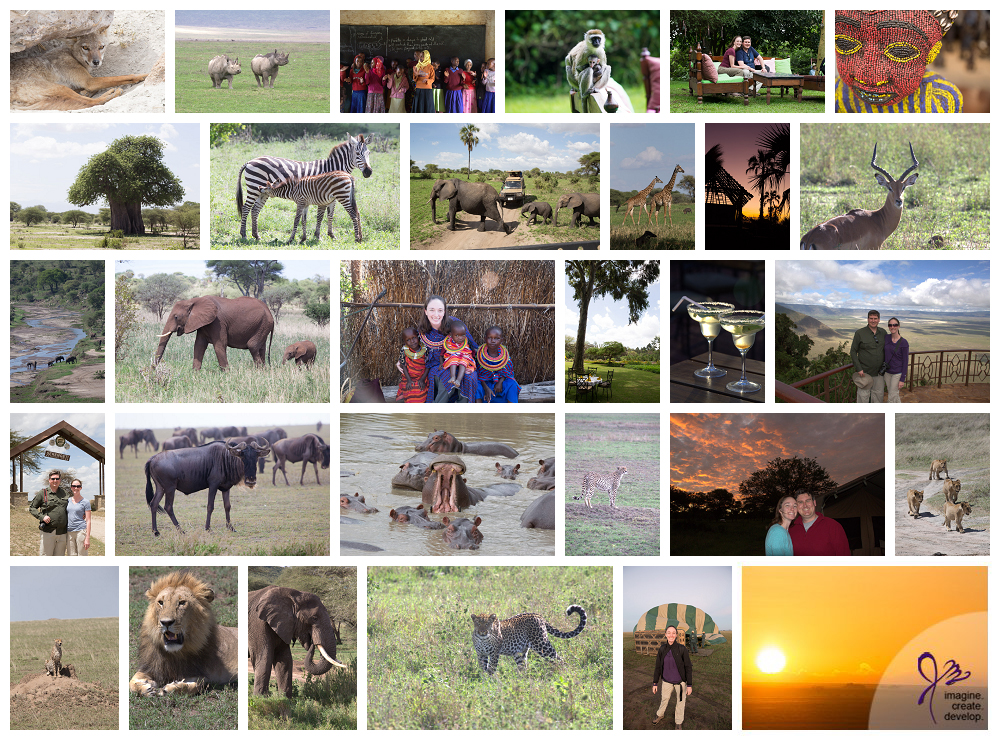 The following is our journal from the trip, re-typed here for those of you interested in reading about our experience.  For more photos from the trip, click here.
The Journal:
12/2/14 – Jeff
This morning I woke up at 3am.
12/3/14 – Amsterdam – 11am – Jenn
We missed our 10:15am flight to JRO by 5 minutes due to a 2 hour take off delay at LAX.  Not thoroughly impressed by KLM airlines but it is what it is.  I was sort of excited about the possibility of a 24hr stay in Amsterdam with hotel.  We could have finally caught the Heineken experience.  But with a connection in Istanbul now, we will save ourselves 20 hours, arriving at 1:40am according to the schedule if everything goes as is now planned.  I am looking forward to flying Turkish Airlines as they boast a great on-board experience.  Also a positive note is that Jeff has a row to himself on this leg and I have an empty seat next to me as well.  And the legs of the flight are 3.5 hours and 7 hours instead of one long 10 hour flight which is nice considering it is daytime and I plan to be awake for the duration.  And hey, we are on the same flight!
Jeff
I was very proud of Jenn for her ability to work through the situation and not worry.  She is a travel pro!  Onward to our next adventure!
12/4/14 – In air to JRO – 1am – Jenn
Turkish Airlines turned out pretty cool – larger seats and more leg room and Jeff and I were the only 2 in our 3 seat row.  I watched a couple movies.  We are both tired and a little worried about the taxi ride but we land in about 20 minutes which is awesome!  It has been a very long trip.  I hope our bed is warm and comfortable at the lodge.
12/4/14 – Arusha – 9:14pm – Jenn
Today was an adventure.  Only 2 hours of sleep left me feeling odd all day but we still had great fun.  On the way to our destination we saw a boy on the hill between 2 banana trees wearing a beautiful traditional outfit.  I wish I had been able to take a photo because that is when it hit me that we are in Africa.  We also saw three beautiful women in traditional garb who would have been picture perfect.  I absolutely love all the bright colors!  At Shanga House we learned about the great recycle project they have.  It is a business that uses glass bottles to make beads and other beautiful items as well as scrap metal for wind chimes and hangings.  They employ many deaf people and other physically challenged and we learned how to communicate in African sign language.  It was interesting to me that "hello" is the same as "thank you" in ASL and "name" is the same for both.  I made a friend who made the beads and got my photo taken with him.  He was very friendly and I thanked him with both hands over my heart – "Asante Sana".  We walked around and happened upon monkeys holding their darling little babies!!!
Lunch was made by Babu at shanga and was delicious.  On the way back, we stopped at an open air market.  It put me very much outside my comfort zone but was also interesting.  After having beers and feeling VERY tired because of it, the group headed back.  Jeff and I switched rooms, took a little nap, and explored the grounds before dinner.
12/5/14 – Maramboi Tented Lodge – 9:00pm – Jenn
Woke up at 3:30am in Arusha this morning.  After a leisurely wake up, card playing, shower, and walk, we had coffee and spent time speaking with Jeff Lou.  It was very pleasant.  Breakfast was good but sadly Jeff's bag did not come before we left.  Maybe tomorrow.
The first stop in Arusha was the art gallery.  It was cool but also sort of a tourist trap.  Didn't buy anything =)
Next was Tarangerie National Park for a boxed lunch before our AWESOME game drive.  We saw:
Zebras
Gazelle and Thompson's Gazelle
Dik Diks
Ostrich
Elephants
Jackals
Cape Buffalo
Wildebeests
Water Bucks
Giraffes
Tawny Eagles
Yellow Neck Birds
Secretary Birds
Cranes
Warthogs
Mongeese
And the plans we saw were Baobab Trees, Sausage Trees, Acacia Trees and Poisonous Cactus Trees.
Jeff's favorite sighting was the herds of elephants and giraffes.  After that, we drove 15 minutes to the lodge and had a VERY refreshing shower, delicious dinner, and dessert.  Jeff is very happy here with the thatched roofs and wooden lodge structures.  The tents are spacious and comfortable. Bedtime now.  6am wakeup call tomorrow.
12/6 – Maramboi Tented Lodge – Jeff
This morning Jenn woke me for the great sunrise of pink, orange and gold.  She had already taken a few pictures of the moon setting over the mountain range.  Breakfast fueled our morning game drive which began at 7am.
On the way to the game park we stopped at a small refreshment stand to pick up my long lost luggage.  It was a welcome sight and a kodak moment. I am so happy to have my clothing.
We then entered Tarangerie National Park.  We saw mostly the same animals as yesterday, however there were also a few new one – the Dung Beetle, a small Hydrax (relative of the elephany) and a 2 day old elephant too!  Most of today was spent viewing herd upon herd of elephants.  Over 50 were in sight on one view point!
We saw more Vervet Monkeys – one of which was a mother picking bugs off her little on =)
At 11am we began our trip back to the lodge for lunch.  Along the way I felt grateful we were not in a 30 person bus like some of the game drive companies.
Lunch out by the pool was family style and yummy yummy!  We then retired to the room to change for a 20 minute dip in the pool while watching the animals walk by.  How cool is that!?  At 4:30 we walked outside the lodge for a guided tour on the plains.  It was a good 2 mile walk but unfortunately we did not make it to the flamingos in the distance – we will see them in the other parks Godliving said.  He also talked about the Masai we will visit tomorrow and the over 120 tribes of people within Tanzania.  All od the food including dinner has been fantastic today.  I would so visit this lodge again.
12/7/14 – Ngorogoro Farmhouse – 9pm – Jenn
What a blast today was!  Started off traveling to a Masai village where we were greeted by the chief of over 320 families.  At the home we visited we met one man with his 4 wives and 14 children.  The women took me and the other girls to bead and weave baskets while the men corralled the livestock.  Then we all danced.  after, the women gathered materials to mend the huts which included carrying straw on my head, climbing up the ladder to the roof, and also plastering with manure.  It was great fun and I absolutely adored the children.  This was something I was very much looking forward to.  We even went inside one of the huts and the chief told us all about the customs in their culture such as the multiple wives, child bearing, etc.
We bought some beaded work then headed down the road to an ebony and mahogany carving shop before heading to this beautiful 500 acre farmhouse with its vast vegetable garden.  More dancing during happy hour then a wonderful dinner.
12/8/14 – Serengeti National Park – 8:45pm – Jenn
Drove from Ngorogoro to Serengeti today. It is vast here!  With tons of animals, too.  Jeff was amazed by the great migration of wildebeest as there are animals as  far as the eye can see.  We also went to Olduvai Gorge today to learn about the fossils of homo habilus.  That was pretty interesting because it was the earliest proof of an upright human.
This mobile tented camp we are at is amazing.  Hot food and showers, and a flushing, porcelain toilet.  So far, great!
On the way in today we saw:
Kori Bustards
Zebras
Thompson's Gazelles
Giraffes
Wildebeests
Baboons
Camels (not native)
Grant's Gazelles
Hyenas
Hippos
A Monitor Lizzard
Vultures
Reed Bucks
Grey Crowned Cranes
Cape Buffalo
Vervute Monkeys
A Lion
A Cheetah
12/9/14 – Serengeti – 8:45pm – Jenn
Two game drives today.  Jeff took his first 5 gallon shower – luckily he had plenty to spare.  Our first game drive found us lions and cheetahs among other amazing animals.  Godliving is amazing at finding Cheetahs – they are a sight to see.  The pride of lions we saw had a half dozen cubs and two adult males.  They went from the grass by the water up a rock formation to sleep in the shade.  Later, on the same morning drive, we happened upon two more males – loners in the loser club says Godliving.  Apparently the male with more black hair (the older of the two) will later be in charge of a tribe once the current leader is weak enough to be challenged. (*side note, Disney got it wrong about which Lion gets the pack*)  The younger will only mate if the older brother cannot impregnate the females. (*unless Scar couldn't impregnate the females I guess*).
Zebras were everywhere today and we had to encourage them off the roads in order to get to lunch.  After lunch and R&R with a cool shower for me, we went out for a second drive to find a leopard.  We stopped to look at buffalo and were slowly driving through the woodland when a leopard ran down a tree near the car and into the grass.  We both saw it happen, but the others (and even Godliving) only saw the tail – they are that fast!  That was the only leopard sighting for the drive, but we saw many elephants, giraffes, monkeys, baboons, hyenas, buffalo, and birds along the way.
The stories and information Godliving shares are all intriguing. He is quite the entertainer.  Dinner was delicious and we look forward to more adventure tomorrow.
12/10/14 – Serengeti – 9:15pm – Jenn
We woke up and had delicious breakfast before our game drive.  We saw a leopard almost right away.  Godliving is an amazing spotter and saw it high in a shaded tree.  We got some cool silhouette shots and then it climbed down and came close to the vehicles.  We also saw another in a tree in the distance later in the day and on the evening game drive we were told where another one was but did not see it.  For our Happy Room stop in the morning, we discovered a Rhino information station.  The differences between the white and black rhino include things such as the fact that the black walks with its baby in front of her, the white lets it walk behind her.  We also stopped at the Masai cave paintings but had to look from afar as a lion had been spotted entering the cave shortly before.  We did get out to climb a granite rock.  There is more to that story but I was too busy running around the rock and not listening.
Saw more of everything today:
Birds
Elephants
Zebras
Buffalo
Antelope
Monkeys
Baboons
Etc.
After lunch, and rest, our second game drive showed us beautiful views of the Serengeti and its vistas.  We learned about the environmental differences between here and Tarangerie National Park.  Also, Sampson told us how elephants can detect if they are closely related using DNA.  Because males are pushed out of the herd at 16, when they are 25 and ready to mate, they try to find a herd with a weak bull to challenge for leadership.  Before the male even challenges the bull, since he might not be recognizable by sight, the matriarch meets with him and they put their trunks in each other's mouths and blow air.  This sends molecules through the bloodstream to the brain, and they can determine how closely related they are.  If this is her son, he is sent away.  Inbreeding is not allowed because the babies would not survive.  These little lessons are such a vital part of the trip.
12/11/14 – Serengeti – 2:20pm – Jenn
Long day today – 4:30am wake up, 5am Boom! Dark ride of 1 hour to the hot air balloon.  We saw elephants and lions along the way and the balloon ride was great too.  The orange sunrise was the most beautiful one I have seen and we did lots of game viewing from above as well.  Champagne afterwards along with the pilot's story of why champagne is given after flights.  Then a drink in hand for the ride to breakfast. =)  Yummy yummy English breaky as our Canadian pilot called it, and a "loo with a view" on the plains.
Met back up with our group at the visitor's center and the morning game drive before lunch continued.  Not too much excitement on the ride but we enjoyed the view.  Same after lunch on the afternoon lunch where we did not take any pictures – a nice change of pace to just look around with our eyes.  Dinner and fire time was great – we learned how Godlving met his wife.  Tomorrow – on to the Ngorogoro Crater.
12/12/14 – Ngorogoro Farmhouse – 9pm – Jenn
Black Rhino!!!  Spotted by me and confirmed by Jeff.  We have seen all BIG 5 now! =)
12/13/14 – Ngorogoro Farmhouse – Jenn:
Local Dawa at happy hour = #yummy!  Interesting trip to the government funded school today.  The kids sang and we shared our postcards from home.  They were very excited by them.  The school is run down but they are working hard to make improvements.
After school we went to an Iraqw village and to Baba Dingie's home for a snack and more dancing.  He also does the music and dance here at the farmhouse along with the coffee tour.  We saw older kids out of school making bricks in this village.  The families seem to have them do this to keep them out of trouble and not so much to make money.  We were dressed up again at Baba Dingie's and I served everyone maize and beans.  Everyone has been incredibly nice.
—
In closing – Jeff:
This was the trip of a lifetime but one I would gladly repeat every 10 years or so. =)  I was most impressed by how much fun the tour guides made the trip for us and in complete awe of the number of animals in the Serengeti.  The San Diego Safari Park could never compare.
For more photos from the trip, click here.